Rated Current
Current Leakage (A)
50MA ~ 600MA
DPR SS3- UCR30
3A ~ 30A
DPR SS3- UCR60
5A ~ 60A
DPR SS3- UCR120
10A ~ 120A
Time Set-up
Operating Time
Time
0.2sec ~ 30sec
Recover
Manual(Immediate)/Electrical(Timely) Recovery
Operating Time Spec
Fixed Time
Error Tolerance
Current
¡¾15%
Time
¡¾25%
Operating Power
Voltage 2-Phase
AC 90V ~ 260V
Frequency
50 / 60§Ô
Contact Support
Type
1-SPDT(1C)
Status
Normal Time Element (95 96 Close)
Rated Current
AC 250V / 3A Load Resistant
Power Saving
Resistance
between the outer port and the circuit
Over 50§Û for DC 500V Megger
Internal Voltage
between the outer port and the circuit
2.00kv normal frequency for 1 min
between contact points
1.00kv normal frequency for 1 min
between circuitss
2.00kv normal frequency for 1 min
Operation Environment
Temperature
Not in Use
-30¡É ~80¡É
When Operating
-20¡É ~65¡É
Humidity
30~85% RH with no dew condensation
Voltage and Rated Current of Terminal
Over AC 250V 5A
Power Consumption
Below 0.5W
Outer Material
35mm DIN-Rail / Panel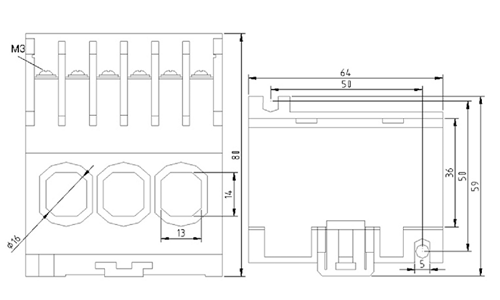 1. Check List Before Use
Please make sure that the product specifications are the same as ordered.
Check to ensure that no damage has occurred during delivery, and that there are no defects or missing items.
2. Current Leakage Set-up
The Set-up is (50~600MA), and the delay time operates after the TIME is passed.
3. Operation Time Set-up
Current Shortage Delay Time: it notifies in advance in the event that the load temperature goes down when the current flow is less than the set current as the heater is disconnected.
Precise set-up is required, since it operates after the set TIME is passed.? The operating time is as marked on the scale of the control knob.
Leakage Operation: confirm it by turning off the yellow lamp.
Under Current Operating Time: by measuring the period of time from the point at which the red lamp (O.L) is dimly illuminated, to when it is turned on brightly.
(1) Set considering the operation of MC.
(2) Operation Time Set-up is controllable for SS3-UCRG TYPE: in a range of 0~30 sec.
(3) Since the time is fixed, in the event of current shortage or leakage operation, it will trip after the set TIME is passed from the moment the red LED is illuminated.
4. Rated Current Set-up
(1) Turn the Current Control knob to the maximum setting, and operate the heater.
(2) While operating, slowly turn the knob counter-clock wise. The point at which the over current indicator red light (O.L) turns off is the point at which the actual load current (100%) has been met.? From this point, turn the knob slightly clockwise, so that the current is 130~140% of actual current.
5. To Confirm Operating
(1) During leakage, the LED turns yellow and the red LED also illuminates. When the set TIME is passed the power output is OFF.
(2) When only the power is on, if the TEST button is pressed, the under current indicator lamp (U.L) illuminates dimly. After the set TIME is passed, the red U.L is illuminated brightly, and then the power lamp is turned off as it trips.
(3) When it is tripped, press the RESET button to recover the initial state. The under current indicator lamp will then be turned off and the power lamp will turn back on.
6. Circuit Breaker Chart