Time Set-up
O-TIME
0.2sec ~ 30sec
Recover
Auto/Manual(Immediate)/
Electrical(Timely) Recovery
Operating Time Spec
Fixed Time
Error Tolerance
Current
¡¾15%
Time
¡¾15%
Operating Power
Voltage
AC 110V
110V ~ 150V
AC 220V
220V ~ 300V
AC 380V
380V ~ 460V
Frequency
50 / 60§Ô
Contact Support
Type
1-SPDT(1C)
Status
Normal Time Element (95 96 Close)
Rated Current
AC 250V / 3A Load Resistant
Power Saving
Resistance
between the outer
port and the circuit
Over 50§Û for DC 500V Megger
Internal Voltage
between the outer
port and the circuit
2.0kv normal frequency for 1 min
between contact points
1.0kv normal frequency for 1 min
between circuits
2.0kv normal frequency for 1 min
Operation Environment
Temperature
Not in Use
-30¡É ~80¡É
When Operating
-20¡É ~65¡É
Humidity
30~85% RH with no dew condensation
Voltage and Rated Current of Terminal
Over AC 250V 5A
Power Consumption
Below 0.5W
Outer Material
35mm DIN-Rail / Panel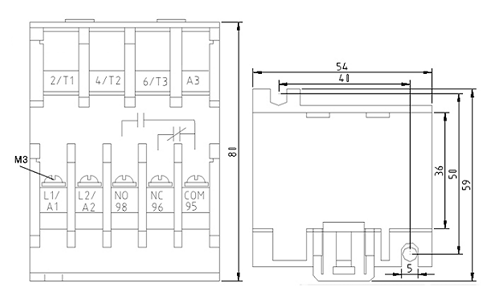 1. Check List Before Use
Please make sure that the product specifications are the same as ordered.
Check to ensure that no damage has occurred during delivery, and that there are no defects or missing items.
2. Operation Time Set-up
Precise set-up is required, as it operates after O-Time. The time is as marked on the control knob.
(1) Operating Time Set-up
O-TIME is controllable in a range of 0.2~30 seconds.
(2) It will trip when O-TIME is exceeded during a power surge while operating.

3. Rated Current Set-up
(1) Run the generator after setting up the required voltage by turning the voltage control knob.
(2) To determine the actual voltage while operating, slowly turn the knob counter-clock wise. The actual voltage (100%) has been met when the power surge indicating red lamp (O.L) turns off.


4. To Confirm Operating
(1) While the power is on, if the TEST button is pressed, the power surge indicator lamp on the generator protect relay (O.L) will dim, and then brighten after the set O-TIME has been reached, as the power lamp turns off and it trips.
(2) When it trips, press the RESET button. The power surge indicator lamp will turn off, and the initial state will be recovered.
5. Circuit Breaker Chart